profile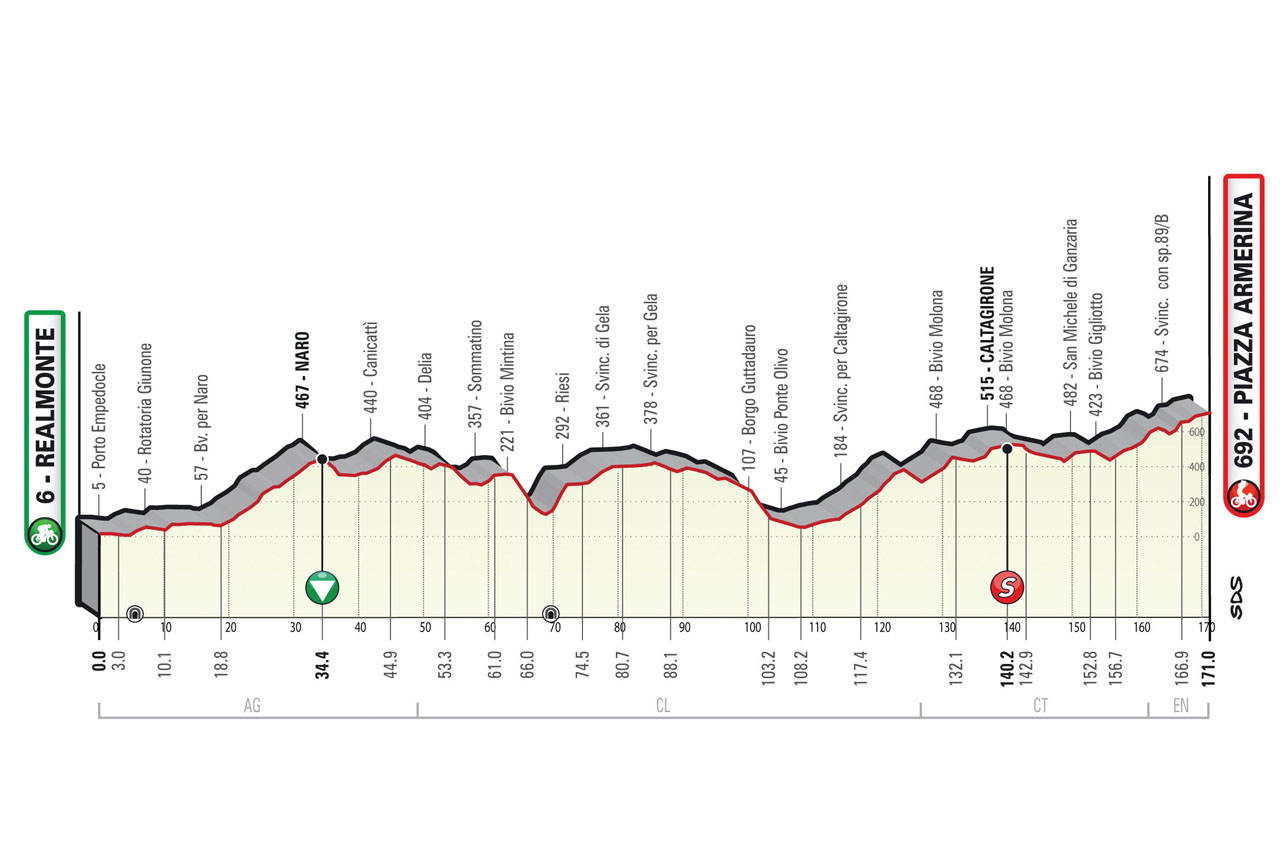 map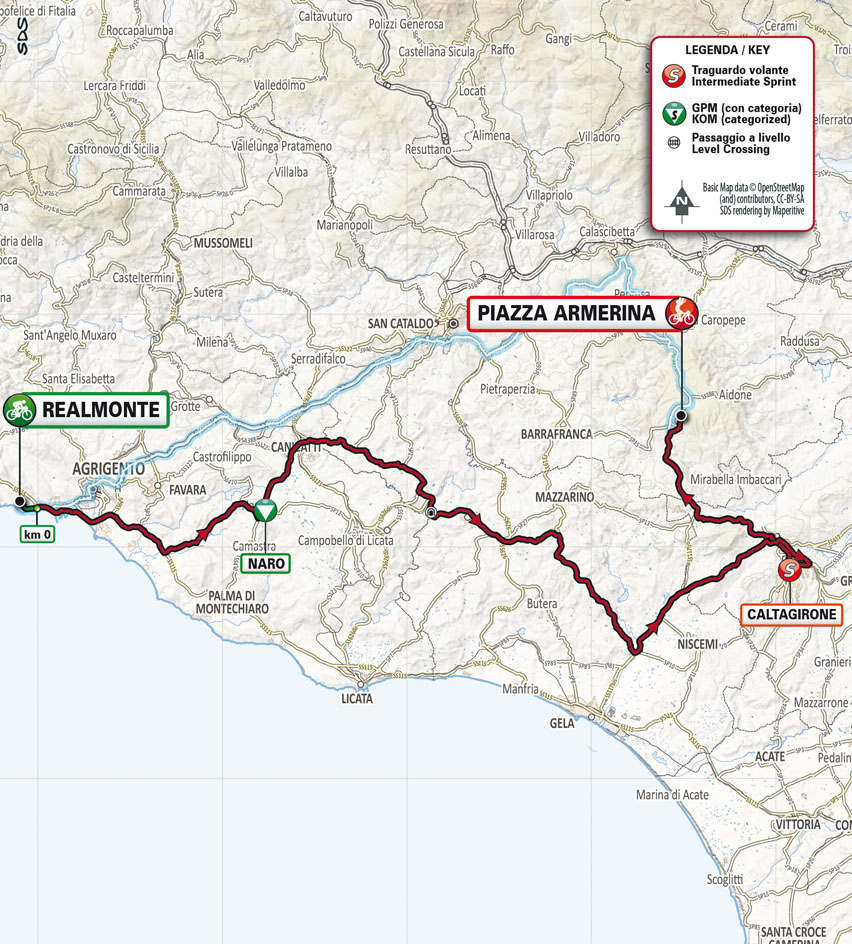 technical info
The route
The stage has a very wavy profile. There are no major climbs, but a steady succession of longer and shorter ascents and descents, and just two urban areas along the route. The stage passes through Canicattì, on narrow roads at points, and then takes an uncomplicated pass through Caltagirone. The intermediate sprint will be contended here, at the top of a short ascent. The stage finale runs on a slight incline all the way to Piazza Armerina.

Final kilometres
In the last 3 km, the route ascends at an average 5% gradient to reach Piazza Armerina, and levels out in the final 1,500 m, with just two undulations that lead to the closing 200 metres on flat roads. The home straight is wide, on tarmac.
start / finish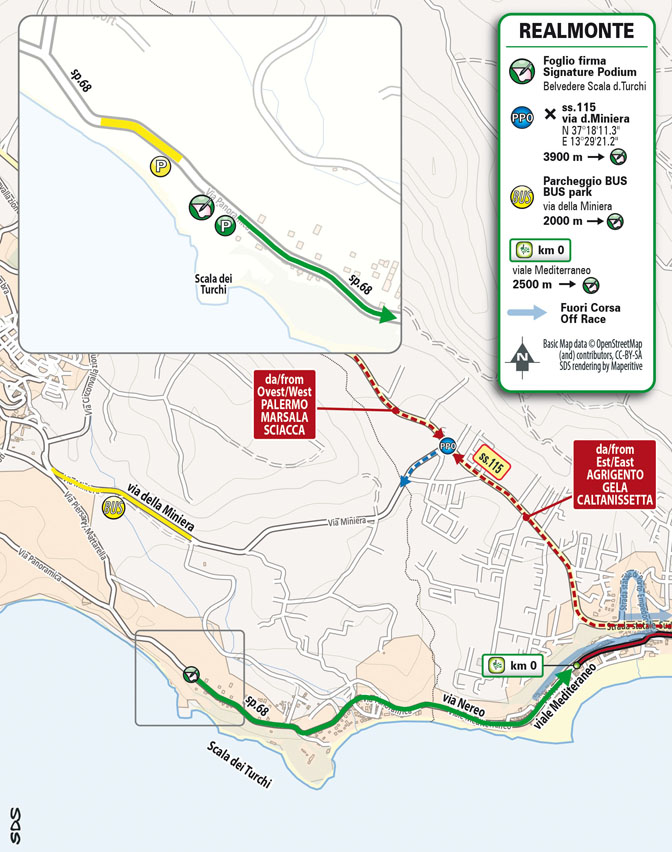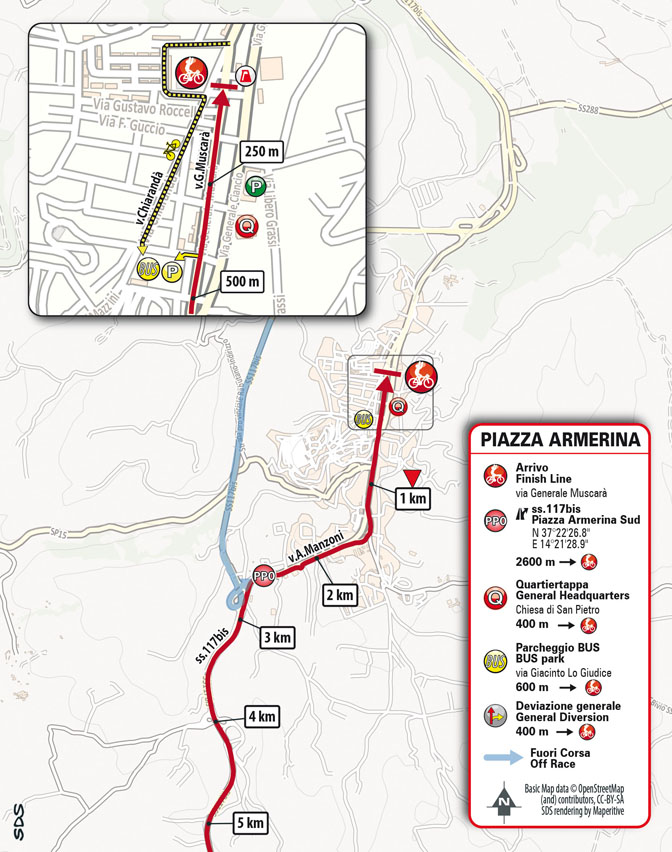 final kilometres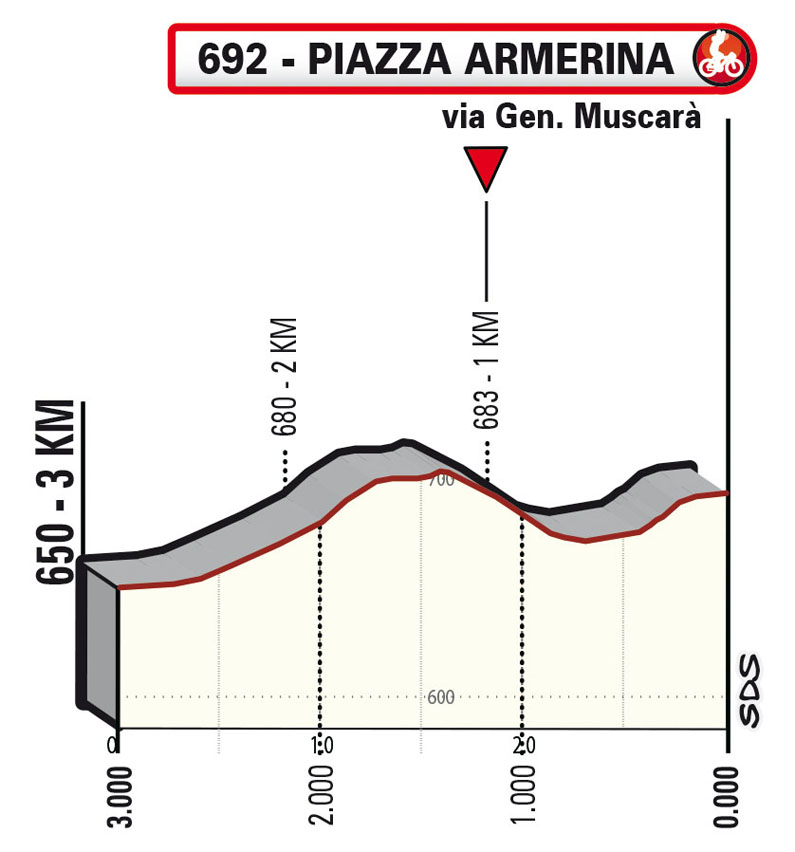 itinerary timetable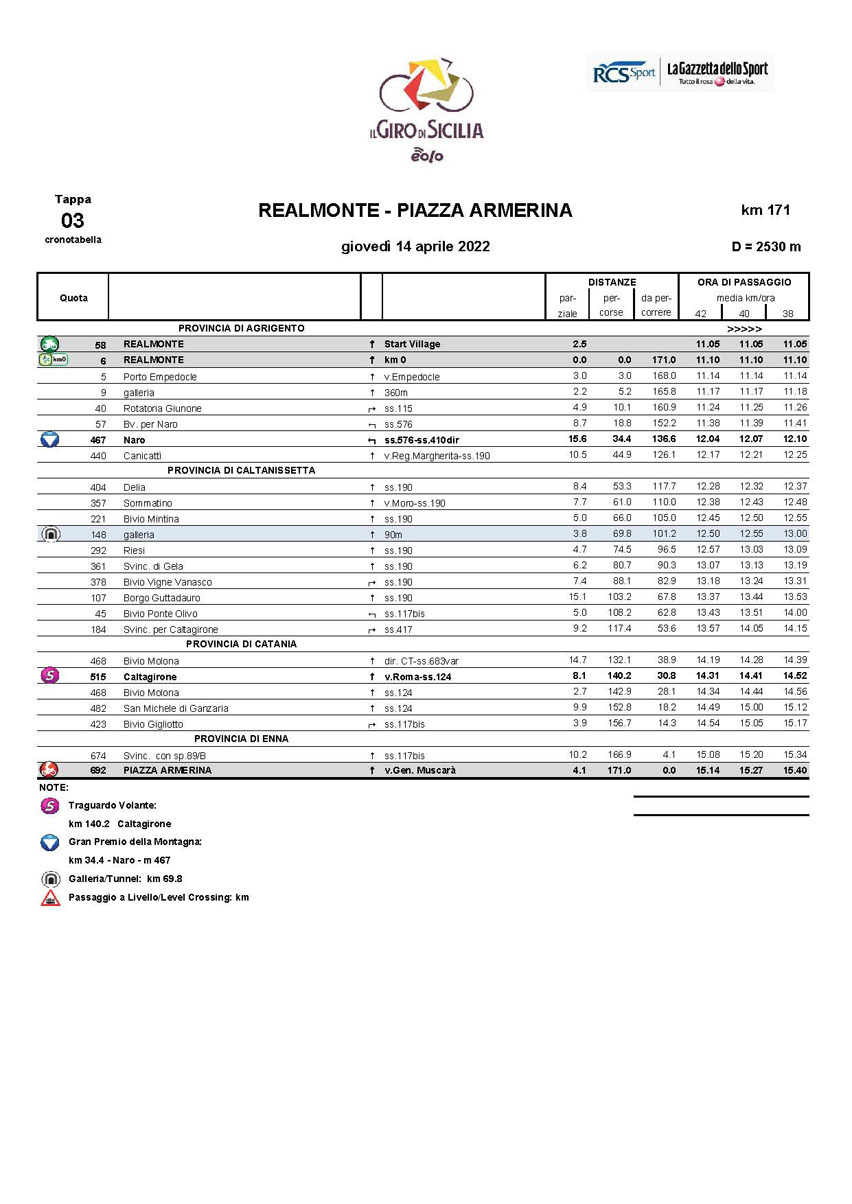 tourist info
Realmonte
Overview
Realmonte is a small town in the province of Agrigento, not far from the coast. Its name in mediaeval Latin was "Mons Regalis", which translates as "the king's mountain". The first village was founded at the behest of the noble feudal lord Don Domenico Monreale, a few kilometres from the sea (for safety reasons) in the 17th century.
Between the 18th and 19th centuries, the noble family of the Alimena, Dukes of Castrofilippo, exercised their jurisdiction over the village, while also taking care of its economic and artistic development.
Ph. Credits Paolo Barone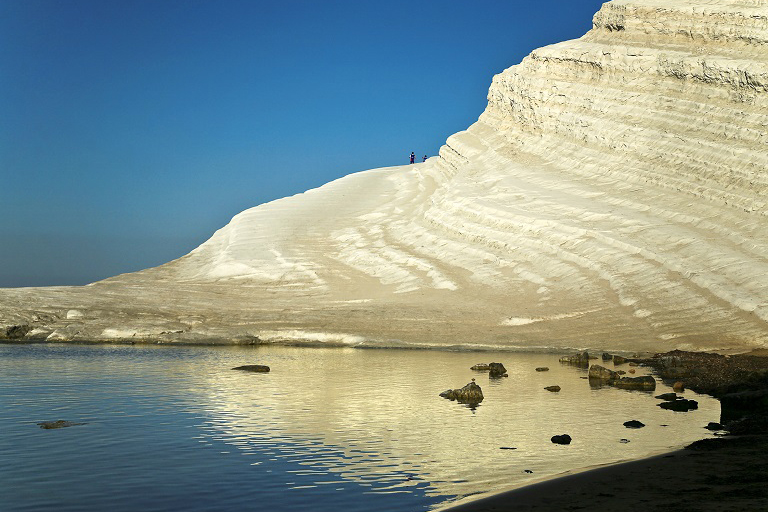 Gastronomy
Most often, traditional recipes are simple dishes based on locally sourced vegetables, grown on the hillsides and in the lowlands. At times, they are reinvented by popular chefs to appear in fine dining settings. If you're in town, these are the dishes to look out for: Cuddriruna, Nmugliulati, Coddra chi sardi, Minestri e Pasta di Muntirriali, Cacateddri, Brioscia ca granita di limuna, Gelatu a pezzu. Raffadali, the home of a famous pistachio variety, is less than 30 minutes' drive away.
(source: livingagrigento.it/ – Free Municipal Consortium of Agrigento)
Ph. Credits Paolo Barone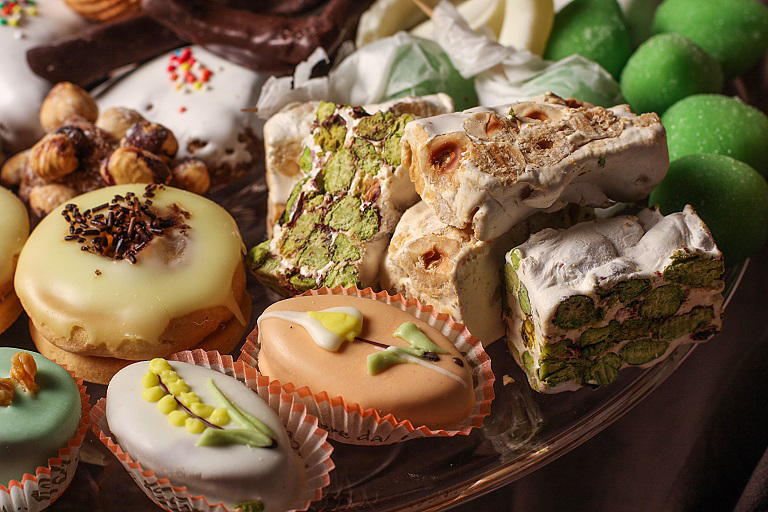 Piazza Armerina
Touristic information
Nestled in the lush and verdant woods, in the province of Enna, Piazza Armerina is world-renowned for its historical and archaeological heritage.
Ph. Credits Giuseppe Di Vita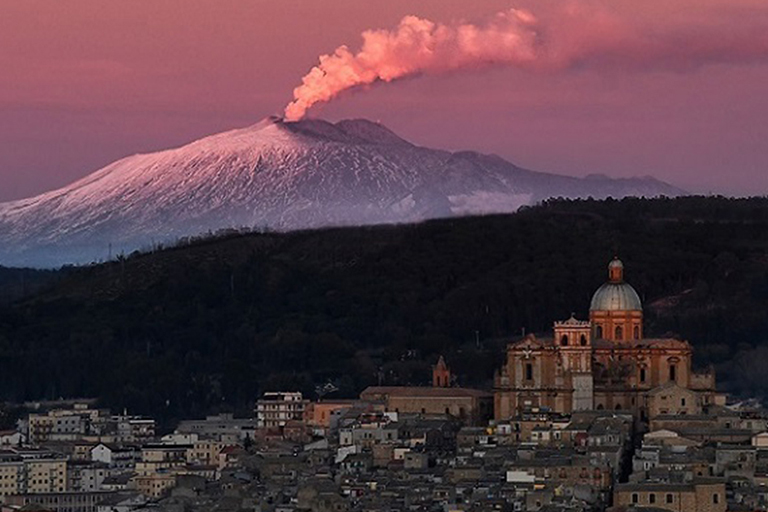 Gastronomy
Local cuisine offers a wealth of must-taste specialties, with 'protected geographical indication' and 'protected designation of origin' status. These include Piacentinu Ennese (cheese), Provola (cheese) and Supprissata di Nicosia (cured meat), Vastedda cu' Sammucu di Troina (stuffed focaccia), Mostarda di Ficodindia di Gagliano (prickly pear mostarda), Cassatelle di Agira (stuffed shortbread cookies), Tortone di Sperlinga (sweet fried bread), Buccellati Ennesi (stuffed shortbread cookies), black lentils, peaches (the traditional Pesca settembrina di Leonforte), saffron, Mandorle Vinciatutti (local almond variety), the 'Colline Ennesi' olive oil, and the traditional Pagnotta del Dittaino (bread loaf).
Ph. Credits P. Fundrisi & Paolo Barone